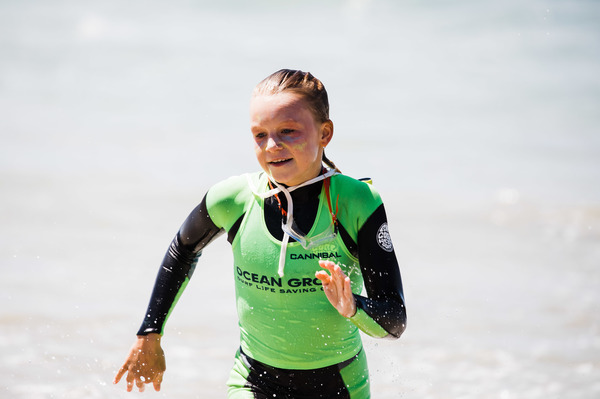 By Mark Heenan
Ocean Grove SLSC was the standout Victorian surf life saving club after the two-day Life Saving Victoria (LSV) Junior State Championships wrapped up at Lorne across the weekend.
At the end of competition on day one on Saturday 23 February, Ocean Grove SLSC was one of three leading clubs in contention to take out the coveted state prize.
"Mornington Life Saving Club, Ocean Grove Surf Life Saving Club, and Mentone Life Saving Club lead the preliminary team points-score race after day one of Life Saving Victoria's Junior Lifesaving Championships," Life Saving Victoria said in a statement after day one.
Ocean Grove SLSC Nippers won the LSV Junior State Championships ahead of Mentone Life Saving Club, which came second, while Mornington Life Saving Club came third in 2018.
The junior state titles had a new host venue at Lorne and were staged earlier in late February this year compared with previous years where the Nipper state finale concludes at Warrnambool across the long weekend in March.
On day two water based events were cancelled on 24 February due to the bigger surf at Lorne.
Ocean Grove SLSC Junior Activities Manager Darren Ball said it was an action packed day one with organisers running more events on Saturday to accommodate for Sunday's heavier conditions.
"They (LSV) tried to smash out as many events as possible (on Saturday) because they were worried about the conditions on the Sunday." Ball told the Voice.
"Just the conditions, the wave conditions – there was a really big sweep, it was a little bit more like a washing machine and they were concerned for the safety of the kids."
Around 94 Ocean Grove SLSC Nippers competed in the state titles at Lorne with some excellent performances produced.
Local Nipper James Leahy won Best Male Water Competitor of the Year, while star OGSLSC female Pippi McIntyre was crowned Best Female Beach Competitor of the Year.
Highlights of LSV state titles included Ocean Grove local Campbell Asher's gold in the final of the Under 13 Boys Iron, while James Leahy finished third.