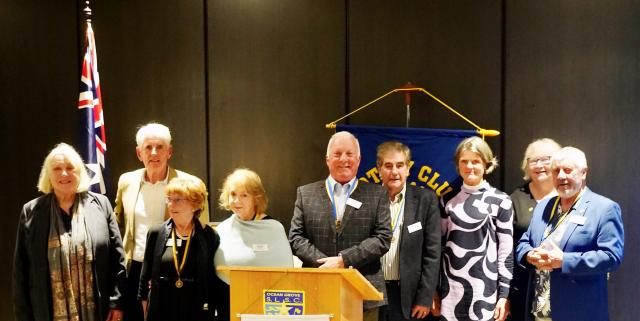 Rotary Club of Ocean Grove held its annual Changeover dinner at Ocean Grove Surf Lifesaving Club on Tuesday June 21.
District Governor John Clue spoke on behalf of Rotary International. Assistant District Governor Vici Funnell performed the official changeover from Alan Keyse to Peter Cowburn as president for 2022/23.
"The work our members continue to do year after year never ceases to amaze me," Mr Keyse said.
"Last year we distributed to charities and deserving organisations both here and overseas in excess of $70,000.
"This money was raised with the help of the local community supporting us with our summer markets and many other events such as the annual art show in Point Lonsdale, the Easter Duck Race in Barwon Heads and many more."
Peter Cowburn introduced the new board to the club members, partners and friends.
Mr Cowburn said he was anticipating an exciting year ahead.
"Ocean Grove Rotary are about to commence its new year 2022-23 with a new board and many new initiatives," he said.
"Also, the club has many new community and International projects on the drawing board. An important part of the Rotary are new members. Last year was a good year for new people joining Rotary and we are planning for an even better year this year.
"The club is about to start a year of fun and social enjoyment, assisting our community and community members. Imagine the things we
can and will achieve."
Highlights of the evening included Paul Harris Fellow recognition presentations to Judy Greer (sapphire), Gill Morgan (ruby), Adrian Schmitt (sapphire) and Rod Greer (sapphire).
Meredith O'Neill received the John Fox Memorial Award for her dedication to developing a suite of policy documents for the club.
John Wynn was recognised for his years of service with life membership of the club.
Ocean Grove Rotary announced that over $70,000 was donated to 11 local charities, four Australian charities and seven international charities.