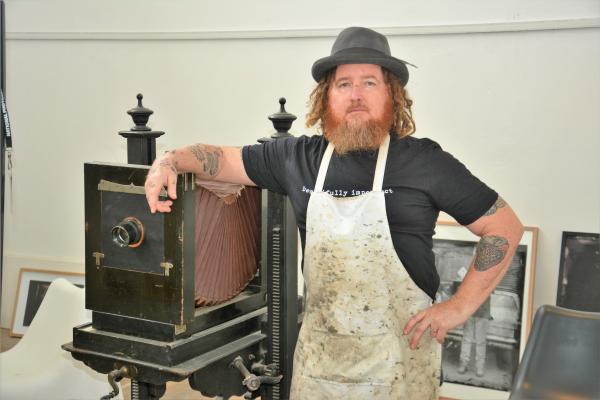 By Justin Flynn
Scott Andrews was in a dark place and contemplating suicide.
Broke, living in a dark and ramshackle shop in Queenscliff, suffering from painful rheumatoid arthritis and prone to hours of crying every day, he had lost all hope.
"I didn't know what day it was and super anxious – it all came to a head," Scott, an artist and former stonemason, said.
"I had no creative ideas, I was just in survival mode. How do I get out of bed, what am I going to eat?"
But then something happened. Scott successfully managed to get a mixture of medication that finally worked and it all clicked.
"I immediately had this idea that I had to do a book," he said.
The idea was a photo book about men recounting experiences of their own mental health journey.
"It started with one guy who walked into the shop and I told him about this process and my idea and that's how it all started," Scott said.
"He told someone else, then someone else saw it."
The end result is Man Up Man Down, a stunning book about 50 men photographed with the almost forgotten wet-plate process, who reflect on their mental health demons through a series of questions and answers.
"I've met so many amazing people – war veterans, guys who have been raped at school and anything from a mildly anxious 20-year-old to an ex-sniper in Iraq," Scott said.
"If you're worried about your mate or your son, you show them this book. There's 400 answers there.
"We all just need a general understanding of being a bit more compassionate. If we are all a bit nicer to each other and ask a few questions and be honest and show vulnerability to our kids."
Scott, who is in the midst of converting an old building into an art studio in Ocean Grove, wants to do similar books on AFL, music and surfing.
"If someone isn't into AFL, they might be into music or surfing," he said.
"I want high-profile people to be in the book and just talk."
Go to thetravellingalchemist.com.au to buy a copy of Man Up Man Down.