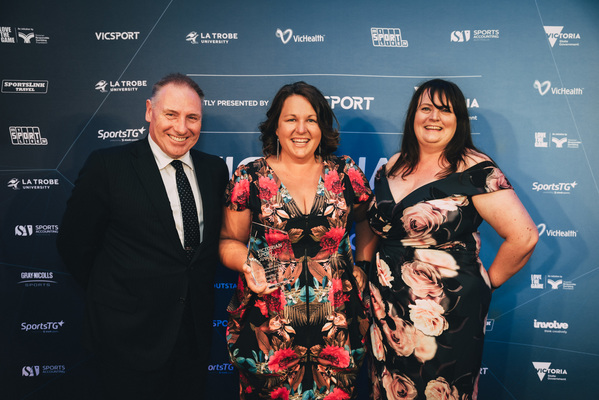 By Justin Flynn
Richelle Olsen started Escaping Your Comfort Zone as a way of getting plus-sized women out and about in a nonjudgmental atmosphere.
A couple of years on, the 'group' has 2000 members countrywide and took out the Victorian Sport Awards Outdoor/Active and Recreation Initiative of the Year last week.
"My dream from the start was like a body-positive Park Run," Richelle said.
"I basically wanted to build something like that, but body positive and for women."
Escaping Your Comfort Zone was a finalist in the awards last year, but went one better in 2019.
Richelle accepted the award at a gala function at Marvel Stadium last week, but there was a time during the awards that she hoped she wouldn't win.
"As they started announcing the categories I suddenly started feeling very sick in the stomach with nerves," she said.
"After you get an award everyone has to go to another room for an interview.
"I was like 'I don't want to do an interview, I don't want to win' but then when they announced it I was like 'okay this is happening this is what we worked for'."
Richelle said she gave Escaping Your Comfort Zone little chance of winning, not because she doesn't believe in the product, but because of the disappointment of last year.
"I actually went in with quite low expectations because we were finalists in the same category last year and we went in quite confident but didn't win which was okay," she said.
"But this year we were up against three other organisations and I was like 'yeah I don't like our chances, but it's a fun night out so why not?
"I was very surprised."
Escaping Your Comfort Zone now has 1000 members in Melbourne and 1500 state-wide and has expanded to Sydney and Canberra.
"Our aim over the next couple of years is to launch throughout the rest of Australia but also in more regional centres in Victoria," Richelle said.
"The key for me on the night was to thank all the volunteer leaders.
"I just had this cool idea; it's those girls that make it the amazing group that it is.
"To get this kind of accolade means other people and government bodies think we're doing a good thing, so maybe we are doing a good thing and off the back of that hopefully we can spread the word a bit more."