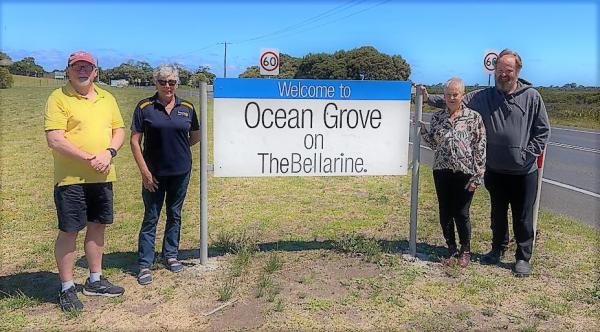 The search is on for a new town-entry sign to welcome people to Ocean Grove.
Rotary Club of Ocean Grove, in conjunction with Ocean Grove Business Association (OGBA) and Ocean Grove Community Association (OGCA) has launched a competition to design the sign.
Ocean Grove has four entry points at Grubb Road, Barwon Heads Road, Wallington Road and Shell Road and the three associations want to install a welcome sign at each one.
People of all ages are asked to submit a drawing or artwork of a town entry that captures a sense of arrival to Ocean Grove. There could be a different sign for each entrance.
"A sign welcoming locals home and visitors to our town is a great way to arrive into Ocean Grove and is much needed," OGBA president Ty Simons said.
"We are the biggest town on the Bellarine and should be leading the way in this and so much more. This competition is a great way to get the community involved."
OGCA chair Phil Edwards said: "The current sign on Wallington Road is a boring metal sign that in no way reflects the character of our town.
"This competition is a great opportunity for community members to put forward their ideas on what the entrance signs could look like including two-or three-dimensional signs or sculptures."
Rotary Club of Ocean Grove president Gill Morgan said she liked the idea of a nature feature which goes along well with Rotary's new focus on environment.
"Roaring, not boring, and by roaring I mean eye catching," she said.
To enter, create your drawing or artwork on an A4 size to be displayed in the window of a local cafe. You must write your name, age and contact phone number on the back. Drop off your entry to Driftwood Cafe any time or email a scanned picture to rotaryclubogrove@gmail.com.
Entries close 5pm Friday, March 26 and multiple entries are accepted.
Winners will be judged by Rotary Club of Ocean Grove.