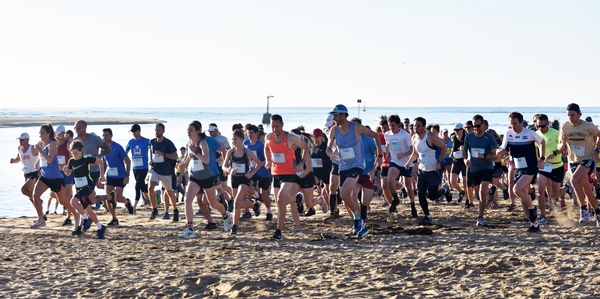 Two-time Australian Olympian David McNeill set a new race record to claim the 8km crown at the 40th annual Sheepwash Classic at Barwon Heads on Saturday.
Up to 600 participants took part in this year's Sheepwash Classic 8km and 4km events in warm autumn sunshine and blue skies on 20 April.
McNeill, 32, who competed at the 2012 London and 2016 Rio de Janeiro Olympic Games, won the 8km run in a time of 25 minutes 50 seconds at the traditional Easter long weekend fun run held between Barwon Heads and Ocean Grove.
"That is the fastest time I have seen for an 8km (at the Sheepwash)," said Sheepwash Classic organiser Michael Moulton, who was master of ceremonies on the day.
McNeill finished ahead of second-placed Mitchell Dyer (29:52) by more than four minutes in the 8km event, while Hamish Baylis came third in 31:03.
Olivia Hobbs was the first woman home in the 8km event in 31:54 and finished fifth overall.
Jacki Armstrong won the 4km run in a sizzling time of 13:08 to finish ahead of gun Ocean Grove local Seb Asher (13:22) and star runner Alex Romaniw, who came third in a time of 13:30.
Asher finished second at last year's 4km event.
Zoe Woods was the first female across the finish line in 14:55.
THE Sheepwash Classic is a major fundraiser for the Barwon Heads Primary School.
Mr Moulton said the money raised from the annual Easter weekend run helps the school fund special projects.
"It goes to special projects like a new bike shed, landscaping of the school, new play equipment for shade sails and things like that," Moulton said.