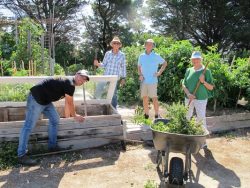 Barwon Heads Community Arts Garden will celebrate its 10th birthday with a celebration day.
From a grassy patch of land, the community garden has grown into a thriving community space enjoyed by the garden members, many community groups and the general public.
The garden is a community based permaculture garden that has communal veggie patches as well as individual allotments. It is also a gathering space, a space for the creation and display of art, and, a living example and experiment in living green.
Come along and celebrate 10 years of a community of people working together, having fun, sharing produce and many great times. Wander through the garden and talk to plot holders.
Vote for your favourite plot. Listen to live music, eat food made from produce grown in the garden, and bring your 'freaky' vegetables along. A prize will be given to the freakiest, craziest vegetable.
The celebration day will be held on Sunday 25 March from 1.30pm to 3.30pm at Barwon Heads Community Arts Garden, 38 Geelong Road.
For further information, see www.bhartsgarden.com.au or www.facebook.com/BarwonHeadsCommunityArtsGarden.