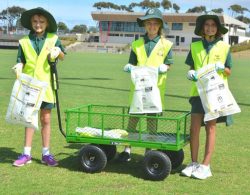 Our Lady Star of the Sea Primary School students were keen volunteers to contribute to Clean Up Australia Day.
All students from Prep to Grade 6 donned gloves and held rubbish bags to help clean up the area around their school.
Students roamed the Shell Rd sporting complex and all the way through to Bellarine Secondary College picking up rubbish and tidying up the area for Clean Up Australia Day.
"I'm really interested because we live near the ocean and we don't want rubbish and plastic blowing into our sea," Grade 5 student Abbie said before getting to work.
"We'll probably find a lot of KFC and Hungry Jacks rubbish, coffee cups and cans and lots of plastic."
Another way the school is promoting a sustainable environment is 'nude food' days, which involves students bringing their packed lunch in containers without the need for plastic wrapping.
"We're trying to make nude food day into a day where all students participate," Grade 5 student Matilda said.