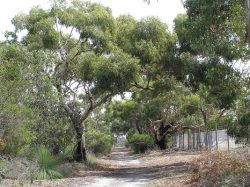 Council has adopted Amendment C349 which implements the Ocean Grove Significant Tree Project (OGSTP) and aims to better protect the unique landscape character within well-established areas of Ocean Grove.
In 2015, the OGSTP identified the number of significant trees on public and private land in two areas of old Ocean Grove. More than 3000 significant trees were noted, including the Bellarine Yellow-gum which is a threatened species in Victoria.
Along with the vegetation surveys, a detailed Background Report was prepared to inform the draft planning controls. Public consultation took place in 2016 with a number of changes made in response to submissions.
At a Panel Hearing in October 2017, Council officers responded that Amendment C349 is strategically justified and recommendations from the OGSTP are appropriate given the number of significant trees. The Panel recommended rezoning of certain areas to retain building height limits consistent with those recommended by the OGSTP.
"Ocean Grove has a wonderfully unique landscape with its dense pockets of bushland throughout the suburb," City of Greater Geelong mayor Bruce Harwood said.
"It's important to the community that Council preserves and enhances these characteristics and planning controls work to maintain the right balance between the built and natural environment."
The Amendment adopted by Council incorporates the Panel's recommendations.
Council will also write to the Minister for Planning to reiterate concerns relating to the Bushfire Protection Exemptions which can result in the removal of vegetation in urban areas where there is no identified bushfire threat.