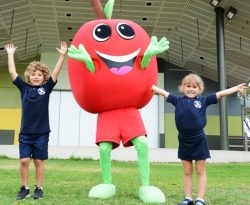 By Justin Flynn
Ocean Grove Primary School's annual Apple Fair has moved to a new venue.
The popular fair will be held at Ocean Grove Park this year after the school's oval was unavailable due to extensive upgrading.
"We're moving here because of the money we raised from past years has gone towards our new oval and it won't be ready in time," OGPS teacher Rebecca Martin told the Voice.
The fair attracts thousands of fun seekers and Ms Martin said organisers were hoping for another bumper crowd.
"Last year was our most successful year ever," she said.
"We're hoping to beat that this year. If it's successful, we'll consider moving it there permanently."
The OGPS oval has been upgraded with new synthetic turf, a soccer pitch, retaining wall and has been reseeded.
The move to the park was an easy decision.
"They've been fantastic to work with," Ms Martin said.
The fair will be held on Friday 9 March from 4pm to 7pm and will feature rides, music, food stalls and, for the adults, beer and wine. It's also Labour Day on the Monday and organisers are hoping to capitalise on holidaymakers coming to the Bellarine for a long weekend.
Mascot Pip will make an appearance and the students are very excited.
"They donate lucky jars and we have an amazing parent committee who do everything," Ms Martin said.
"We're still asking for donations for our silent auction, so call the school if you can help. We hope the 2018 Apple Fair is going to be the best yet."
For more information, see the fair's Facebook page.