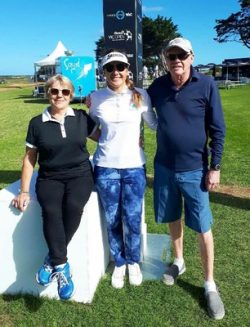 By Mark Heenan
Perth golfer Hannah Green credited her Ocean Grove host family for an equal third place showing during the Vic Open at Thirteenth Beach Golf Links this month.
The LPGA rookie, 21, finished at seven-under alongside English golfer Georgia Hall with their tally of 285 and was six strokes adrift of winner Minjee Lee (279) and runner-up Karis Davidson (284).
It was a stunning result for Green and her best finish at the Vic Open.
Green said her stable grounding and support from Ocean Grove locals Ian and Cynthia Berry made it enjoyable at the picturesque course.
Ian and Cynthia Berry, current Ocean Grove Golf Club members, have been host family to Green for the last four years whilst the Vic Open was on.
Green's partner Jarryd Felton, a professional golfer from WA, has resided at the Berry household during the event.
"I did not want to miss this event – I was very keen to come back and play and stay with my host family – it is a great event and I have really fond memories," Green told the Voice.
"It is nice to come back to a familiar area, familiar people, a course I really know really well.
"I asked for a host family and yeah I have stayed with them ever since – they have always invited me back.
"We have a really good relationship – so that's nice."
It was eventful lead up to Vic Open. Green arrived on the day before event began as she flew in from the Bahamas where she had competed.
The only concern was when she turned up to collect her bags at Melbourne Airport and the star player's golf clubs and luggage had gone missing.
"I arrived at nine o'clock in the morning on the Wednesday and my clubs and luggage didn't show up until 7pm that night," Green said.
"I was in the same clothes for a long, long time – I was just stressed to even make the flight."
Unlike previous years, Green did not have as much down time to take in Ocean Grove's coastal surrounds but said it was nice to be back.
"I like the atmosphere and you are so close to the beach – the sunsets and sunrises we have had – it has been really nice," she said.