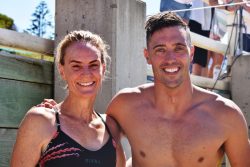 Melbourne-based television news journalists Christine Ahern and David Woiwod were among hundreds which took the ocean swim plunge in Ocean Grove on Sunday.
Ahern, who works for Channel Nine's The Today Show, and Woiwod, a journalist with Channel Seven and correspondent for Channel Seven's Sunrise breakfast show, were first time participants of race.
The competitive and keen ocean swimmers happily gave the Bellarine-based Australian Day long weekend swim the tick of approval.
"First time I had done it – a lot harder than I thought it was going to be," said Woiwod, a former Life Saving Victoria employee.
"It is a beautiful beach here (at Ocean Grove) lovely conditions – a great event it is only in its second year and it is definitely catch on and it is going to be one of the big ones on the coast."
Ahern said the Ocean Grove SLSC Open Water Swim Festival was a great concept and looks forward to seeing it grow.
"I thought it was absolutely beautiful – the water was wonderful…..it is a great event and great feel it will be around for years to come," Ahern said.
This summer both Ahern and Woiwod have competed at the Pier to Pub in Lorne, the Portsea-based Swim Classic and the Australia Day Swim in Brighton in Melbourne.