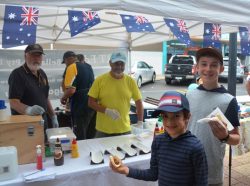 Rotary Club of Ocean Grove turned back the clock 20 years with a free sausage sizzle in Ocean Grove, on Australia Day.
The free snags were gleefully snapped up from 9am to 11am on The Terrace.
Busker Isaac Wright entertained the crowd and there were fake tattoos, face transfers and balloons courtesy of Helloworld Travel. People also enjoyed games, soft drinks, and of course, free sausages offset with onions for those who indulged.
Dean Mawby told the Voice he was visiting for a long weekend from Castlemaine and son Alexander Mawby and Jack Saunders were thankful for a free sausage in bread.
The event was sponsored by RTEdgar (Bellarine) Real Estate and is yet another example of Rotary doing good for the community.