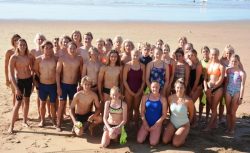 Ocean Grove Surf Life Saving Club's team put its largest athlete group ever on the beach to race in Anglesea on 7 January.
The team travelled to the carnival in an effort to build participation even further prior to the end of the season which will see a new clubhouse being built to replace the old one.
It's the start of a big couple of weeks for the group as they hosted the first leg of the Weiland Shield Californian versus Victoria competition at Ocean Grove on Wednesday 10 January.
Head coach Sonia Kinsey said while the holiday time has been very busy so far, all of the athletes are working hard twice a day most days to improve their results.
"They are also very mindful that it is this fitness and training that helps prepare them for their core business, that one of keeping the public safe, in and around water," she said.