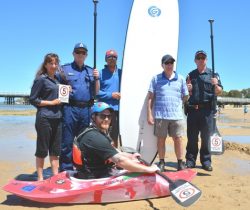 By Justin Flynn
An initiative by passionate local environmentalist John O'Reilly came to fruition with the help of Barwon Coast recently.
Mr O'Reilly, who died in September, was a founding member of Ocean Grove Coastcare and it was his idea to introduce a five-knot speed limit sticker to remind Barwon Estuary users of the speed limit.
"John thought outside the box in how we may collectively educate users without installing additional signage that a speed limit applies," Barwon Coast's Maddie Glynn said.
"This passive messaging we hope will lead to a greater respect for the estuary and other beach users, while engaging more people using the estuary in a responsible manner."
The stickers were launched on the Barwon Heads side of the bridge with representatives from Victoria Police, Victorian Fisheries Authority, Bellarine Paddlers, WSUP stand-up paddle boarding, Barwon Coast and Mr O'Reilly's wife Margot Busch and son Shaun present.
"It would have put him (Mr O'Reilly) in the limelight, which he wouldn't have been that thrilled about, but he would have been thrilled that it's happened," Ms Busch said.
"It's a reminder to the users of the estuary that it's not just the fine you get, but you should also be worried about other users of the river and then there's the environmental factor as well. It's (the estuary) a nursery for fish."
The river, estuary and coastline will be patrolled this summer, with four governing agencies having the power to prosecute – Parks Victoria, water police, Victorian Fisheries Authority and TSV Marine Safety. The fine for exceeding the five-knot speed limit is $280.
The marine grade five-knot sticker is available free for anyone wishing to place it on their paddle or watercraft by contacting Barwon Coast or by emailing Bellarine Paddlers at ralphsbrk@outlook.com.