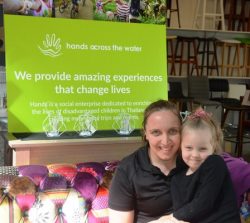 By Justin Flynn
Cycling 800km in eight days in stifling heat might seem like a daunting challenge to most, but Erin Dodd is not overwhelmed.
The Ocean Grover will head to Thailand for the Ride to Provide event and she needs $10,000 to do it. All proceeds go towards helping children in Thailand.
"The ride doesn't bother me," she told the Voice.
"If I had to do the ride tomorrow, I'd be confident – the fund-raising is the hard part."
The ride is organised by Hands Across the Water.
"I've been involved with the charity for four years and go over every November," she said.
"I leave my family and my kids and go over and help the kids there."
The gruelling ride starts in Bangkok and ends at Khao Kak, at an orphanage.
There is a rest day in between, but Erin otherwise the 25 cyclists will ride an average of 100km per day.
Erin's training has involved cycling the Bellarine Rail Trail and she does a spin class once a week at Pedal Shed.
"Money is going to have the biggest impact in feeding and educating the kids," she said.
"I often get a lot of people ask 'why Thailand? Why don't you help kids local here?
"If everyone does one thing, it impacts in a positive way.
"You can't make an impact if you try to cover everything, but if you concentrate on one thing you can make more of an impact."
Erin needs your help in order for her to help the children of Thailand. Go to handsacrossthewater.org.au/get-involved/sponsor-a-rider-or-trekker/ and search for Erin Dodd to donate.