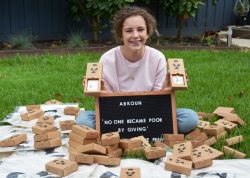 By Justin Flynn
It's rare that you come across a 13-year-old who already knows what she wants to do with her life.
After a volunteering trip to Cambodia in June with her mother Tracey, Georgie Demir is now certain that she wants to help others.
The Ocean Grove teen has started her own business where she makes specially designed soaps herself and 100 per cent of the profits are then handed over to help build wash houses in Cambodia.
"Most kids in Cambodia don't have soap, toothpaste and toothbrushes," Georgie said.
"I met so many kids over there and saw so humble they are even though they don't have a lot."
The business, Arkoun, which means 'thank you' in Khmer, is aiming to sell enough soap to help build two wash houses a year.
Georgie estimates that in order to build one wash house, she will need to sell 669 bars of soap and 100 tote bags, which are made from 100 per cent organic cotton.
Each wash house helps on average 400 school children access basic hygiene education and hand washing facilities.
So far Georgie is around halfway to achieving her goal, but she doesn't plan on stopping at one wash house.
So impressed were the volunteering organisation Head, Heart and Hand in Cambodia of Georgie's passion and project management skills, they have invited her to travel back to help oversee the construction.
She has no trepidation about going either, even if it means travelling over there alone.
"I miss the kids so much," she said.
"Sometimes I get quite emotional when I think about them."
Georgie makes the soaps from scratch at home and with interesting names such as 'Bee Kind to Others', 'Hello Darkness My Old Friend', 'Don't be Afraid to Sparkle' and 'Cambodian Sunshine', it's clear that Georgie is a young entrepreneur with a big heart and loads of imagination.
"It was a bit of trial and error making the soaps to start with," Georgie said.
"I almost blew up the microwave and then thought I'd better start researching how to do it properly on You Tube."
Georgie receives help from friends on weekends and her products are available at www.arkoun.org
Creation in Ocean Grove and Surf Coast Kids in Torquay also stock Arkoun soaps.
The picture of a Cambodian girl on the packaging is of someone who reminds Georgie of her trip. She had help from graphic designer Georgia Mullins in designing the packaging.
You can also follow Arkoun on Instagram at arkoun_handmade and you can search for Arkoun on Facebook.