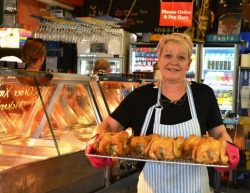 Don't feel like cooking on Christmas Day, but still want quality food on the table?
Let Piping Hot Chicken Shop and Burger Grill take care of things.
The iconic Ocean Grove eatery is offering scrumptious roast chickens and turkeys cooked to perfection to pick up on Christmas Day. Yes, on Christmas Day!
Tami McAdam will be at the shop from 6am on the big day to ensure your Christmas lunch is fresh and tasty.
The birds will be cooked in the new combi oven and will be available hot and cooked as well as cold if you prefer to pick up your lunch before Christmas Day.
"People are nervous about cooking turkey," Tami said.
"It's just a great thing to be able to offer people."
Turkeys have the option of coming stuffed with sage, bread and butter stuffing.
Tami will also be at the shop until 6pm on Christmas Eve if you want to pick up a cold chicken or turkey for the following day.
All the birds are chemical free and the new combi oven does a perfect job of retaining moisture to the meat.
Pre-orders are essential. Either call in at the shop on The Terrace or phone 5255 1566.
See pages 22 and 23 for more about Piping Hot Chicken Shop and Burger Grill.