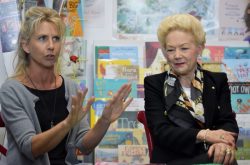 By Mark Heenan
The 2017 Melburnian of the year Susan Alberti rolled into Ocean Grove with local author Stephanie Asher to promote 'The Footy Lady' book signing at Bookgrove on 2 December.
Asher, a Bellarine Ward councillor and professional writer and speaker, took part in an open Q&A session with Alberti in front of numerous local book enthusiasts at the popular Ocean Grove based store.
Ms Alberti AC was honoured for her lifelong work to help find a cure for diabetes, a condition that claimed her daughter's life 16 years ago.
"She has turned into a positive, turned an incredibly tragic situation into something really valuable," said Asher, who is the Ocean Grove Life Saving Club vice-president.
"Sue is actually internationally renowned as well with her work."
Alberti, former vice president of the Western Bulldogs AFL club, is the driving force behind the establishment of the AFL women's national league which held its inaugural season in 2017.
Alberti said she was impressed with the growth of AFL women's in the wider Geelong region, including Ocean Grove.