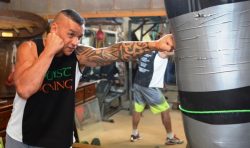 By Justin Flynn
Glenn Skipper decided that he needed to get fit as middle age took its toll.
The Ocean Grove bricklayer paid Purist Boxing in Leopold a visit and started a fitness regime, which included learning how to box under the tutelage of professional boxer Jack Light.
A bicep tendon operation was a major setback, but undeterred 'Skip' got ready for a tournament in Caloundra, Queensland, where he fought twice for two wins in the 51 to 55 age group and 85kg to 91kg categories.
"I was always the small guy in the photos at school," he said.
"I thought I'd join for the fitness side of things."
At 51, Skipper had never boxed before. Light took him under his wing and in an astonishingly short period of time, he won in a technical knockout in his first fight and won his second bout on a points decision.
"The fighting is the easy bit," Skipper said.
"All I knew before the fights was the name of my opponent. It's just a name – you don't know their background or where they've come from. The unknown is the scary part.
"There was panic beforehand, but I'd trained right and was confident in my ability. Once I'd done a proper warm up there were no nerves."
So what now?
"Retirement," Skipper laughs.
"I've done it now. I went from not knowing a thing to winning two fights. That'll do I reckon. I'll keep surfing and visiting Purist Boxing one night a week. I enjoy watching the kids from gym. It's like a really close little community down there."
Skipper said the guidance he has received from Light, 22, has been immense.
"He's like family – I love him like a son," he said.