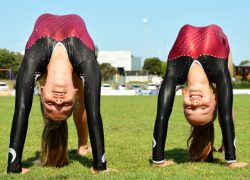 Two young local gymnasts are fresh from a successful competition campaign that resulted in them competing in the State Titles.
Lana McLachlan, 13, and Stella Courtney, 9, were initially selected to represent Geelong YMCA to compete at the South-Western region qualifier for the Victorian State Women's Artistic Gymnastic Finals.
At the qualifier the gymnasts finished first in their team event which included four other team members. As individuals Lana qualified overall first in her age group on the four apparatus consisting of the floor, beam, bars and vault. Stella also had success, qualifying second overall in her age group.
The gymnasts then participated in the Victorian State Final Geelong Arena, where they competed against all the other regions in Victoria.
Lana, Stella and their team performed well amongst tough competition where placings often involve the smallest of margins.
Lana finished with a well-placed fourth overall in the final which included a second on the bars, fifth on floor and sixth on beam.
"I felt relieved that it was over and that I did really well," Stella said.
"You get to learn new things," Lana said.
The girls train for 15 hours each week in Geelong and both have aspirations of one day becoming Olympians.
Stella's favourite discipline is the bars while Lana enjoys the floor.
Stella finished a gallant ninth overall with a fifth place on bars and sixth on the beam.
In the team event they finished in sixth place.