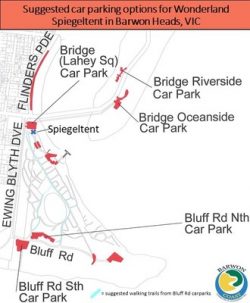 A concern over limited car parking for the Wonderland Spiegeltent in Barwon Heads this summer has prompted Barwon Coast to remind event goers of alternatives.
The Spiegeltent will set up on the foreshore at Lahey Square, near the bridge, from Boxing Day to 28 January.
The Wonderland Spiegeltent, a 1930s nostalgic wooden mirrored and antique travelling European circus tent, is a major coup for the region.
Car parking and traffic congestion in Barwon Heads was described by many as a nightmare last summer after the introduction of two pedestrian crossings on Hitchcock Avenue and Bridge Road.
Barwon Coast said Wonderland Spiegeltent patrons could consider other travel options.
Those attending matinee shows will be most affected by low car parking availability.
"There are excellent coastal trails leading straight to the Wonderland Spiegeltent site, so why not put on a pair of walking shoes or ride your bike to the show? Bike parking will be available onsite," Barwon Coast general manager Gary McPike said.
"Perhaps you could convince a friend to drop you off and walk or catch an Uber or a taxi home. Car-pooling with friends is another great idea to reduce the stress of finding a car park."
Barwon Coast runs a small shuttle bus over the summer months between Ocean Grove and Barwon Heads, which is an option for matinee shows, but it will not be operating for the evening performances.
McHarry's Buslines also run from Geelong and other areas of the Bellarine to Barwon Heads, see www.mcharrys.com.au for timetables.
For those who are driving, parking may be found at a number of sites.
Suggested spots include the carpark on the end of the Ocean Grove spit at 20W followed by a short walk across Barwon Heads Bridge, carparks in the Bluff Road precinct, within Lahey Square itself and along Flinders Parade.