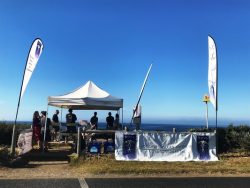 After a week of fickle weather surfers were blessed with sun and surf for the last Southern Ocean Union of Longboarding (SOUL) comp of 2017.
The final competition for the year was held at Boings beach break along 13th Beach Road. The Boings beach break has long been one of SOUL's favourite locations when the conditions are favourable for longboard surfing.
As the sun rose the car park was quickly occupied and the smell of bacon and eggs filled the air. A bit of slip, slop, slap and the comp was underway with the promise of a cracker of a day. The morning's incoming tide set participants up with semi-clean one to three foot waves. A little bit of easterly swell produced left and right peaks offering something for everyone to surf their best.
Once again the frothing groms put on a magnificent display. With mums and dads in the water with the micro groms, a bit of a push they were up and riding catching tons of waves.
The SOUL club is a great family club that encourages and welcomes individuals and families at any level of longboard surfing. Whether you are new to the area or have been here a while why not get down to the next comp and see what it's all about.
Dates for 2018 season will be posted in due course.
Inquiries to Paul Fletcher (president) on 0477 477 841 or Helen Jacob (secretary) on 0425 778 245.
Results:
Junior Boys:
1. Archie Fullerton
2. Bailey Dolan
3. Isaac Isaac
Junior Girls:
1.Billi Cook
2. Milly Angleton
3. Rose Parry
4. Piper Needham
5. Sammi Needham
Open Men:
1.Matt Wright
2.Dean Cook
3. Jamie Wall
4. Steve Kernaghan
Open Women:
1.Mel Renton Wright
2. Helen Jacob
3. Cathy Slevin
4. Sarah Reid
Over 40's:
1.Jamie Wall
2. Mitch Knapton
3. Helen Jacob
4. Andrew Needham
Over 50's:
1.Greg Vick
2. Steve kernaghan
3. Dave Gibson
4. Larry Hayes
5. Andrew Brown
6. Mick Armstrong
Over 60's
1.Nev Forster
2. Gus Angleton
Logger:
1.Tama Pihana
2. Andrew Brown
3. Nev Forster
4. Dave Gibson
5. Tom Parry