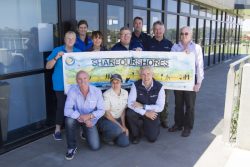 Barwon Coast, in partnership with other organisations including Victoria Police and City of Greater Geelong, has launched a new campaign called ShareOurShores.
The campaign aims to bring the community together with all organisations involved in dogs on beaches.
ShareOurShores promotes the respect, responsibilities and rights that are important in minimising conflict between different beach users and dogs.
ShareOurShores was launched in Ocean Grove at two identical campaign launch events, the first on Saturday 18 November and the second on Monday 20 November.
A panel of experts discussed the pros and cons involved in dogs on beaches and provided information on the current dog controls that are in place.
"Barwon Coast is very concerned about risks to human and wildlife safety created by dogs on beaches. We are also worried about the impact dogs can have on the general amenity of our coastal reserves," Barwon Coast general manager Gary McPike said.
"Some locals have admitted to us that they are frightened to visit the beach with small children for fear of a dog attack.
"Many locals and visitors have expressed concerns about dogs on beaches directly to Barwon Coast and we are aware that it is a very prominent topic on local social media forums," he said.
Sergeant Shane Connolly of Victoria Police said: "Unlawful behaviour by dog owners is of concern to the Bellarine police members as it poses a threat to public safety. We welcome our involvement in the ShareOurShores Campaign launch as it will enable us to speak with the community about anti-social behaviour and dog owners not adhering to dog control laws."
Barwon Coast is charged with the management of 13 kilometres of coastal Crown land from the east of Ocean Grove to the western end of Thirteenth Beach.
Barwon Coast sets dog control orders that dictate the where, when and how people walking dogs may use the coastal reserves.
Dog Control Orders are enforced by officers from the City of Greater Geelong.