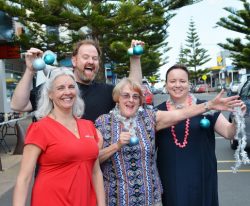 By Justin Flynn
The Terrace will again be closed to vehicular traffic to accommodate the third annual Christmas in the Grove event.
The popular shopping extravaganza and street festival, run by Ocean Grove Business Association, will be held on 6 December.
The festival, which encourages locals to shop local in the lead up to Christmas, was a huge success last year and OGBA president Ty Simons said he was hoping for similar numbers.
"We had around 1500 people last year," he said.
"It was a great family night. We're hoping everyone opens up and that it will remind people to spend their money locally. If we get a few or the same numbers as last year, we'll be happy."
Traders will spill their wares out onto The Terrace from 5pm to 8pm and the street will be closed to vehicles, allowing festival goers to wander the usually busy street.
Madeley Street traders will also be in on the action with a special place set aside on The Terrace for them.
The street festival will feature a jumping castle, kids actiivities, food and drink and Santa Claus, who will make an appearance on a specially built chair from Ocean Grove Men's Shed.
Ocean Grove Barwon Heads Lions Club will again be doing their popular sausage sizzle and selling Christmas cakes and puddings.