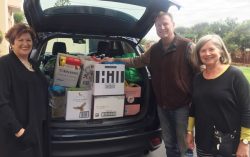 Ocean Grove Evening VIEW Club has supported The Cottage By The Sea in Queenscliff during Anti Poverty Week.
Members were asked to donate foodstuff and clothing from a list of essentials provided by the management.
As usual the response from members was outstanding. Chris Waite, Marian Coppins and Jill Gillett were able to deliver a large carload of items.
The women were then taken on a tour of The Cottage By The Sea and were able to give a short presentation at the VIEW dinner meeting the following week.
The support given to children of struggling families is a reminder of Ocean Grove Evening VIEW's commitment to the community.