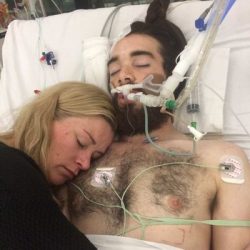 By Luke Voogt
Ocean Grove father-of-three Richard Andrew Vincec will spend at least five years behind bars after killing a 22-year-old man with a single punch.
Supreme Court Justice Peter Riordan sentenced Vincec to eight years in prison with a non-parole period of five years after he pleaded guilty to manslaughter on Thursday.
Vincec punched Jaiden Walker in the left cheek outside Cherry Bar in Melbourne's CBD on 6 May, causing him to fall back and hit his head on the ground, the court heard.
Mr Walker died in hospital on 12 May after suffering a fractured skull and bleeding on the brain.
"As a result of your actions, a fine young man has been deprived of the rest of his adult life," Justice Riordan said.
"One hopes that the intensity of the pain (Mr Walker's family feels) will be reduced in the passage of time, but it will never be completely resolved."
On the day of the manslaughter Vincec had been drinking and took drugs in the toilet of the bar.
Security camera vision played in court showed Vincec kissing a woman outside the bar who Mr Walker had been in a sexual relationship with.
After two minutes, the woman pushed Vincec away. Vincec offered to shake Mr Walker's hand, who ignored him and moved away.
"You moved towards Jaiden, insisting that he shake your hand and you escalated the situation by saying 'shake me hand, c***'," Justice Riordan said.
The two eventually shook hands aggressively. "(You) said 'grab my hand like that and I'll hit you," Justice Riordan said.
Friends tried to restrain the two men for 15 seconds before Vincec moved around them and punched Mr Walker in the left cheek.
"As you ran away from your mortally injured victim, he lay on Russell Street and was unconscious when attended to by passing doctors who did their best to preserve his life until emergency services arrived," Justice Riordan said.
"You were intercepted by police elsewhere in the city and you initially denied any involvement in a fight however, in your formal interview, you admitted your wrongful conduct."
Vincec wrote to Mr Walker's family accepting full responsibility for his death and rang police every day until his victim died, the court heard.
Justice Riordan took the guilty plea into account when handing down the sentence and said Vincec had shown genuine remorse.
Vincec's prospects of rehabilitation were good due to his supportive partner, stable employment, determination to support his children and compliance with bail conditions, Justice Riordan said.
The court heard Vincec had previous convictions for violent offending.