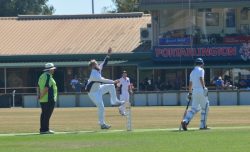 By Mark Heenan
Reigning premier Collendina's season opening two-day clash with Anglesea remains evenly poised at stumps after day one on 7 October.
It is a mouth-watering match on paper, Collendina and Anglesea are the last two A Grade flag winners.
Batting first Collendina was all out for 142 from only 57 overs, and in reply Anglesea had lost 2/20 after 15 overs at stumps.
Cobra pair Corey Walter (41) and Cameron Kavaliunas (45) top scored for the visitors.
Walter and Kavaliunas rescued the innings with a 78-run fourth wicket stand after the Cobras were reeling at 3/10.
Veteran Richie Peters (28) and Alistair Grant (11) playing his 50th senior game for the Cobras, provided some late-order resistance.
The two-day fixture at Anglesea saw the return of Kangaroo speed demon Dale Kerr.
Kerr finished with 5/35 from 15 overs and mopped up the Cobra tail, while team-mates Brett Venables (3/22) and Dylan Taylor (2/28) both contributed with the ball.
The Anglesea captain coach spent the second half of last season sidelined after a serious back surgery.
In fact Kerr was unlucky not to have a six-wicket haul after Walter was dropped off the first ball of day.
"I tried to leave it and it got my hand, and it sort of run of the face of my bat and run in between the keeper and first slip," Collendina coach Corey Walter told the Voice.
In other developments, Walter paid tribute to star bowler and former captain Jye Hearps in his 100th senior game for Collendina.
Hearps debuted in 2001, claimed 195 wickets for the Cobras and was named man of the match with three scalps in last season's premiership triumph over Barwon Heads.
"We spoke a bit about it before the game obviously what Jye's done for the club has been huge – it was pretty special playing in his 100th game," Walter said.
Hearps grabbed the late wicket of key Anglesea opening batsman Ned Cooper (2) and finished with 1/4 from 4 overs.
The Cobras were without star batsman Ben Ricardo and gun all-rounder Andy Higgins.
Anglesea needs a further 123 runs for victory with eight wickets remaining.