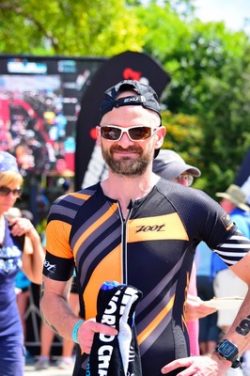 Ocean Grover Adam Marks competed in the Ironman 70.3 Triathlon World Championships held in Chattanooga, Tennessee.
The men's event was held on 10 September in the mountain town and had 2426 competitors, of which Adam, 39, placed 872nd.
Not a bad effort given he was scheduled to fly Melbourne to Houston the week Hurricane Harvey hit. He was re-routed to Los Angeles and due to expense and circumstances opted to drive across the country, crossing all four continental US time zones.
Extreme jetlag and stress brought about shingles two days before the race. Despite fatigue and being unwell, Adam rallied to the start line in the 40-44 age group (the largest group of competitors).
Adam completed the tough course in five hours and 34 minutes. Pros and amateurs alike commented that it was a particularly challenging course with steep bike climbs and a constant incline on the run.
Adam qualified for the World Championship in February when he competed locally in the Ironman 70.3 race held in Geelong.