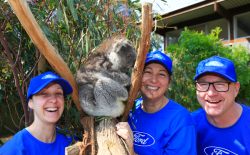 Ford IT workers got their hands dirty giving Jirrahlinga Koala and Wildlife Sanctuary in Barwon Heads a "much-needed" makeover last week.
Richard Crow was thrilled to get outdoors with the 15 or so workers mulching, weeding, painting and fixing fences at the sanctuary.
"I love it," he said, pushing a wheelbarrow of mulch.
"We get out in the community and give something back."
Jamie Strzelczyk and Ivona Bilic got up close and personal with the sanctuary's koalas, kangaroos and "amusing" emus after making the trip down the Princes Freeway.
"I've been here before with my kids so it's really good to help out the sanctuary – they need all the help they can get," Ivona said.
"They help all the animals – which are really cute."
"It's awesome to connect with the community and get out of the office and do something different," Jamie said, as the pair cleaned an animal enclosure.
Senior keeper Xavier Robertson said projects like this were vital to the sanctuary, which received more than 5000 calls a year to attend sick, injured and orphaned animals.
"It would take the better part of a week to get done what these guys get do in a few hours," the Belmont local said.
"We always make an effort to get everyone up close and personal with the animals at the end of the day which is usually the highlight."
Karingal St Laurence's BacLinks foundation facilitated the restoration project.
"Projects such as this are a testament to the exceptional generosity of our local people and businesses," the foundation's manager Joanne Forssman said.