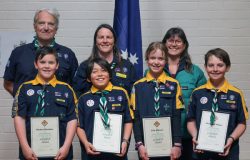 Four Ocean Grove Scout Group Cubs have been awarded the prestigious Grey Wolf award.
Jacob Lee, Alexander Walker, Eleanor Watson and Reuben Venables were the well-deserved recipients.
The Grey Wolf Award is the pinnacle of the Cub Scout Section and one that not all Cubs will be able to obtain. It is the Cub's equivalent to the Queen Scout Award. There are several requirements involved in earning this big achievement.
Gold Boomerang
The Boomerang badges are the major part of Cub Scout training and aim to develop skills and awareness in self-responsibility, outdoor Scouting, Scouting values and principles, creativity, personal pursuits and interests, and awareness of the Cub Scout's local and global community.
There are three levels of Boomerang: Bronze, Silver and Gold.
* In the past 12 months, have participated in a minimum of four outdoor activities.
* One of which must be an overnight camp.
* One should be an interpack activity.
* Using a map, plan and lead a hike/day walk of at least two hours duration with a leader and a group of three to six Cub Scouts. Make sure everyone has appropriate equipment, clothing, food and a personal first aid kit for the chosen walk.
* In the past 12 months, have attended two Pack Councils.
* Have completed four Level 2 Achievement badges including one from each of the four badge categories.
Achievement badges give Cub Scouts the opportunity to concentrate on their areas of interest. There are 34 badges to choose from. Each badge has two levels and the Cub Scout chooses which level they would like to achieve.
* Have completed one Special Interest badge (Landcare, Local History, Language Emblem, Water wise, Their Service Our Heritage, World Scout Environment Badge).
These are all completed by the Cub Scout as an individual, rather than as a Pack Activity
* Develop and present a resource for your Six or Pack.
* These Cub Scouts also attended the Cub Scout Leadership Course for current and potential Sixers and Seconds. The aim of this course is to provide suitable skills in leadership, problem-solving, challenges and Pack Councils to Cub Scouts who may be appointed to leadership roles within their packs.