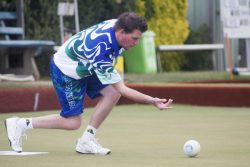 Ocean Grove Bowling Club's 2016/17 Men's Club Champion Chris Price.
Q: Career Highlights?
A: Being selected to represent Australia in indoor carpet bowls and winning an Australasian Gold
Medal against New Zealand. Playing in two grand finals with Colac and Ocean Grove in outdoor bowls.
Q: Most Memorable Bowls Moment?
A: Taking my previous club Colac from the verge of relegation to a grand final in the next season. The
buzz around the club even when we were defeated in that grand final was amazing. Winning the club championship at Colac was a thrill but then to be able to back it up and win the title at a prestigious club like Ocean Grove was a big honour.
Q: Your biggest fear?
A: Aeroplanes.
Q: What is your occupation?
A: Ice cream maker at Bulla in Colac.
Q: Bowling goals for 2017/18?
A: To become a better more consistent player, continue to have fun, make others laugh and hopefully go one step further than last year and win the flag which would be my first.
Q: Most embarrassing moment?
A: Being busted by the police, having a torch shining through the car window in a public place "parking" and told to go home instead.
Q: Would you skydive?
A: Yes.
Q: What did you want to be when you were a kid?
A: Train driver, firefighter or an elite sportsman.
Nationals for Kira
Ocean Grove's Kira Bourke will be looking for national glory when she heads to compete in the Australian U18 National Championships at Taren Point Sydney on 28 September.
Following a consistent performance against Tasmania at Deer Park and an impressive debut in the under-18 junior gold nugget on the Gold Coast finishing runner-up, Kira has been rewarded with the coveted singles role as well as skipping the girls triples for Victoria. Already one of the Victoria's most promising junior girls at the age of 15, Kira will be the one to watch in her chase for a national gold medal.
Victorian Open 2017
Entries are now open for the 2017 Victorian Open in Shepparton. Over the past years Ocean Grove members have been well represented with many players heading to the Greater Shepparton region to try their luck on the big stage. With no pennant competition scheduled why not try your luck.
Singles, pairs, triples and mixed pairs make up the open so why not start planning your teams.
Whether you are a novice or established pennant player makes no difference to you having a go, 18 to 24 November could be the date you become a State Champion.
Bellarine Indoor Bowls
The inaugural season of the Bellarine Indoor Bowls competition has come to a close with the grand final night and presentations last Monday. The premiership decider between Leopold Green and Ocean Grove Silver was taken out by the Leopold side of Michael Sylvester, Mick Willis, Brad Pavey and Jayden Sylvester in a thrilling final which scores were locked level with one end to play. Indoor bowls will continue at Marcus Hill each Monday Night in August as Social Bowls. Names must be in by 6.45pm for a 7pm start.