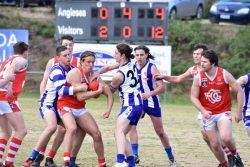 By Mark Heenan
Ocean Grove cemented a BFL top five finals berth with a stunning come-from-behind victory over an inaccurate Anglesea at Alcoa Oval on 5 August.
Trailing by 16 points at three-quarter time, an inconsistent Ocean Grove captured some of its best form in the final term to win by 12 points.
Final scores Ocean Grove 15.6 (96) to Anglesea 11.18 (84).
The victory left the Grubbers with a 10-7 record after 17 rounds, while Torquay put an end to Queenscliff's (7-9-1) slim finals hopes with an 18-point win over the Coutas.
Grubber senior captain Kelly Williams booted two goals and was named best afield, admitted his side's form had been patchy with the Anglesea victory only its second win since 17 June.
"It has been a tough month, we didn't play great for four quarters (so) it was good to finish strongly and have a win," Williams told the Voice.
Grubber sharpshooter Jake Carmody was a catalyst with seven goals, which included a four-goal haul in the fourth quarter.
"If you kick it to his advantage he (Carmody) is going to probably mark 90 per cent of the time," Williams said.
"Having a forward like him there is so much experience, he has cool head and can slot through the game winning goals – it is great to have him around."
Ex-Anglesea big man and first year Grubber Peter Hardy continued his great form and drove the ball out of defence well.
Ocean Grove got off to a flyer and led by 22 points at quarter time as Anglesea failed to captitalise kicking in first term with wind.
Youngster Logan Taylor slotted through the first major with a brilliant snap at goal.
Anglesea dominated Ocean Grove after quarter time in the second and third terms.
Kangaroo midfielder Jackson Bews, a former Leopold player, was a standout with his terrific attack and intensity at the ball.
Anglesea forward Tom Leeds booted three goals, while Sam Leeds snared two majors.
Grubber Travis Gavin returned from a two-week suspension and finished with two goals.
Tim Baker was recalled to the Ocean Grove senior team for first time in 2017, while youngster Logan Popple celebrated his first win in the red and white.
Williams felt relieved with the win after a back injury during pre-season forced him to miss the first four rounds.
Williams, 30, who has missed one senior game since round five, said he was still chasing an elusive senior premiership.
"Obviously it was a slow start and I was just trying to work into the season," Williams said.
"As long as I can try get on the park and do my part for the team, that is all I want to do.
"I am after that flag, we have got a pretty good side here and we'll see what we can do coming from fourth or fifth position."
In the reserves clash Ocean Grove defeated Anglesea by 34 points, 15.14 (104) to Anglesea 11.4 (70). Garrard, Dylan Moroney, Harry Rawlings, James Wills and Reid Billington all kicked two goals.
Ocean Grove 1 held on for a 15-point victory over Werribee Centrals in their under-18 Division Two Colts match on 5 August, 10.9 (69) to 7.12 (54). The Grubbers failed to score a goal in the final term, but the visitors set up victory with a six-goal first quarter blitz. Jack Tregenza booted three goals while Darcy Copeland and Joseph McDonald each kicked two goals.
In Division 3, Anglesea won by 34 points, 11.14 (80) to Ocean Grove 7.4 (46). Raymond Emma-Nnopu and Jace Franken each kicked two goals for the Grubbers.
SENIORS SCOREBOARD
OCEAN GROVE 15.6 (96) d ANGLESEA 11.18 (84)
Ocean Grove
Goals: J. Carmody 7, T. Gavin 2, K. Williams 2, L. Taylor, J. Peers, K. Long, C. Walter.
Best: K. Williams, C. Marchbank, J. Carmody, J. Peers, C. Walter, P. Hardy.