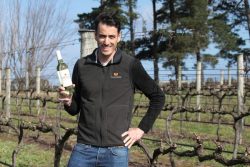 Oakdene's 2016 Jessica Sauvignon has been named the best sauvignon blanc at the 2018 Halliday Wine Companion Awards.
The wine was also awarded 96 points for what James Halliday himself said: "Fermented in French oak (15 per cent new), matured for eight months. The bouquet is perfumed, rare for a sauvignon blanc, and the palate has great precision and drive, the overall complexity is compelling. The barrel fermentation has worked like a charm, making me reluctant to spit the wine out – unheard of. If entered in wine shows, it should sweep the field; the length is amazing".
First produced in 2008 vintage from Oakdene's five-acre sauvignon blanc parcel planted in 2002, Jessica Sauvignon was considered a project wine with the aim of producing an alternate style to the fruit driven sauvignon blanc gaining a strong foothold in the market.
"We can credit the success to a fantastic site for growing high quality fruit, and dedication to excellence in the vineyard," Oakdene wine manager Steven Paul said.
"The challenge ahead is to maintain the momentum and ensure our wines continue to reflect the hard work in the vineyard and winery, and remain at the top end of the Australian wine industry."
It is no surprise that Oakdene Wines have continued to hold the five red-star rating for the fourth year running placing them in the top echelon (10 per cent) of Australian producers, as an outstanding winery regularly producing wines of exemplary quality and typicity.
This also means they have had at least two wines rated at 95 points or above, and had a five-star rating for the previous two years.
This year has produced eight wines rated 94 points or above for the Oakdene brand.
For a short time, Oakdene is offering a limited pre-release of the 2016 Jessica Sauvignon which will be available at the cellar door and as a special offer on the website www.oakdene.com.au in limited quantities.