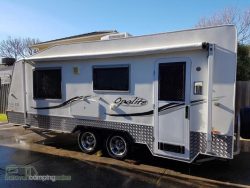 A caravan worth $35,000 was stolen from Ocean Grove.
Between 4pm on 28 July and 5am on 29 July unknown offender(s) cut the wire fence to gain entry to the front yard of an address in Smithton Street.
Once in the yard they cut a tow ball caravan lock and cable around the rear axle to remove a caravan parked in the front yard. Offenders also cut the front locks on the gate to exit the property.
The caravan is described as a 20ft, 2011 Opalite Crystal 610 series, registration number U21554 white/grey in colour. The caravan will have a smashed window and damage to the panels on the driver's side as it hit the fence when removed.
Anyone with information is urged to call Bellarine Police Station on 5256 2698 or Crime Stoppers on 1800 333 000.