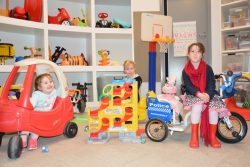 Children get bored with new toys quickly and often the item is left in a cupboard until it is finally thrown out, sometimes years later.
Every year, 19 per cent of Australian parents throw out more than 15 toys, and that's where toy libraries are handy.
Toy libraries allow children to choose a near-new toy, take it home for two weeks and then exchange it for another – just like book libraries.
Ocean Grove Toy Library is one of 280 toy libraries in Australia and has been operating for 35 years, yet not many families know of it.
"The reason why I joined the toy library was that there was so much plastic waste," toy library co-ordinator Kim Turner said.
"It's great. The kids have this access to the toys and they don't litter up the living room because you can take the toys back. Kids quickly outgrow their toys and it makes sense to just exchange toys."
Toy libraries also reduce a family's ecological footprint and decrease waste.
Ocean Grove's toy library costs just $50 per year to join and is run entirely by volunteers. It's located at the Boorai Centre, next to the Bellarine Aquatic and Sports Centre, off Shell Road. It's open from 4pm to 5pm Thursday and 10am to 11am Saturday.