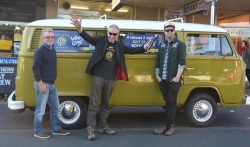 By Justin Flynn
Light of Day Australia is on again and Ocean Grove is gearing up for a massive weekend of musical entertainment.
Held across four venues on The Terrace on 21 and 22 July, Light of Day Australia raises money and awareness for Parkinson's Disease.
Last year's event was completely sold out with patrons being turned away at the doors.
"We encourage people to book to avoid disappointment," Light of Day Australia treasurer Alistair McCallum said.
"All artists perform for nothing. Nobody gets paid and we are just so appreciative of the fact that they do that. Banks Road Winery and Southern Bay Brewery are donating wine and beer. Last year we raised around $18,000."
Light of Day Australia will be held at Piping Hot Chicken Shop and Burger Grill, Driftwood Cafe, Maggie's Bar and The Olive Pit Deli. It will feature some of the area's best musicians performing at four intimate venues. There will also be a songwriter's circle at the Uniting Church on Sunday 23 July featuring Mark Lang, Andrea Robertson, Gallie and Mike Rudd. Tickets are $10 and it runs from 1pm to 3.30pm.
"It's about raising awareness for Parkinson's and trying to get people aware that it is not just people in their seventies who get it, it's also people in their forties and fifties," Mr McCallum said.
Point Lonsdale's Mark Lang is one of the artists that will be performing and he is fresh from a tour of Canada and is in the middle of putting together a new album.
"Everyone has done an amazing job putting it all together," he said.
"It's received great support from local artists and I'm more than happy to help out. I'll be playing some new songs that I've been working on. I've travelled all around the world and the Bellarine is the best. We really do live in the most beautiful part of the world."
Tickets and the full line up for Light of Day Australia are available from www.lightofdayaustralia.com/events/ and all the info can be seen at Light of Day Australia Facebook site.