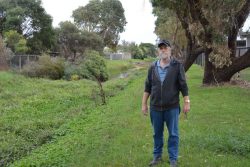 By Justin Flynn
A Collendina resident is concerned that a lack of response by the council to drainage issues could see a repeat of last month's flooding.
John Williamson was forced out of his Antares Court home when water rose 34cm into his house in April. John and his wife are now temporarily living in Point Lonsdale while they attempt to clean up the mess, which will take "six to eight months".
"It happened 12 years ago and we were told that is was a once in a hundred years thing," Mr Williamson said.
"It happened so quickly, we couldn't do anything about it. It was like a river. It was bin night and there were bins from down the street floating in to our front yard."
Mr Williamson said the problem stemmed from the surrounding drainage channel that is built up with refuse and cannot flow, causing floodwater to rise because it has nowhere to go.
"The concern is that we get another downpour, there's absolutely nothing to stop it from happening again," he said.
"The reason it's gone into our house is because it hasn't been able to flow."
Many of Mr Williamson's neighbours were also badly affected.
"When it happened, the floodwater brought all sorts of rubbish. There were used nappies and rubbish just floating around," he said.
"The whole place just wreaked. Council said it would have it fixed this summer, but nothing has been done."
When the Voice visited the area with Mr Williamson, a footbridge across the drainage channel was being replaced at Collendina Recreation Reserve, but there was no sign of any clean up to the drain itself.
City of Greater Geelong was contacted for comment, but had not responded by the time the Voice went to print.