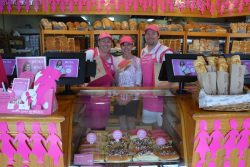 Bakers Delight is calling on Ocean Grove residents to give breast cancer the finger bun, as part of its annual Pink Bun campaign which raises funds for Breast Cancer Network Australia.
From 11 to 31 May, each locally owned Bakers Delight bakery will be donating 100 per cent of the sale amount of pink-iced finger buns to BCNA, with the cost of the ingredients and staffing all being covered by the bakeries. The Pink Bun campaign is a big event on the Bakers Delight calendar, and franchisees will "pink up" their bakeries with decorations to promote the initiative. The campaign, now in its 12th year, will see Bakers Delight bakeries across Victoria help reach the fund-raising goal of $1.5 million for BCNA.
The Bakers Delight bakeries at Ocean Grove and Ocean Grove Marketplace are participating. Shopping bags are also available if you don't want to indulge in a pink bun.
"Everybody is really aware of what the pink day is now," Bakers Delight Ocean Grove manager Sal Humphrey said.
"Everyone supports it."
Over the 16-year partnership between the two organisations, Bakers Delight has raised more than $16 million to support BCNA's work.
Money raised by the Pink Bun campaign supports essential BCNA services, including the My Journey Kit, an information pack provided to people newly diagnosed with breast cancer. More than 12,000 My Journey Kits are distributed free of charge annually.