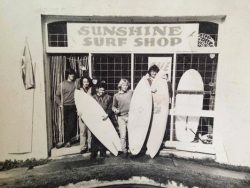 During the early months of 1977, local surfers Doug Showell, Graham Cox, Errol Aitken and Bob Berg approached Leigh Middleton, proprietor of the Sunshine Surf Shop (located on the Bridge Road side of the Barwon Heads Hotel) to assist with the formation of a Boardriders Club to represent the local Ocean Grove, Barwon Heads surfers.
At the first meeting on 3 July of that year Leigh Middleton was elected club president with Bob Berg, Graham Cox and Rod Titheridge filling executive positions on the committee. This was the beginning of the 13th Beach Boardriders. The official receipt book showed a membership of 63 paid up members.
The club held two events in 1977, and the first official competition was held on 26 October at Ocean Grove. Archie Gubbins narrowly defeated younger brother James to take the inaugural win, with James taking out the junior event.
Like most clubs, 13th Beach Boardriders has had some ups and downs and seen a number of incarnations, including the Gasso Boys and Sewerage Surfers during the '90s and even a brief hiatus in the late '90s after the club's equipment trailer was stolen.
Today, the club is going stronger than ever with over 200 members in 10 divisions from Micro Groms to Masters, competing in six aggregate comps, a Retro Comp held on Australia Day, The Battle of the Bridge comp as well as competing in the National Australian Battle of the Boardriders.
Many club members also compete in the Surfing Victoria State Rounds.
To celebrate the club's 40th year, it is holding a massive presentation night and celebration at the Barwon Heads Hotel on Saturday 24 June. The presentations kick off at 3pm and will continue to a little after 9pm when the real celebrations begins with legendary Aussie rockers Grinspoon hitting the stage as part of their Australian tour.
All past and present members are invited to attend and tickets can be purchased through the club's website www.13thbeachboardriders.com – go to the '2017 Presso Night' link at the top right of the page.
The event is set to be a reunion of sorts for anyone who has lived in the region over the last few decades so everyone is welcome to purchase the tickets for the live show with Grinspoon including local support acts include Fin Fright, Baked Beans and DJs Earl and Chook and Moluck.