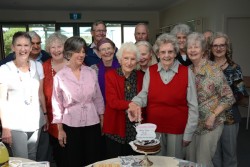 By LUKE VOOGT
LOCAL wordsmiths rejoiced as the Ocean Grove Poetry Appreciation Group celebrated its 25th birthday at the Uniting Church on 18 March.
In a special afternoon tea, the group honoured its two remaining original members (of six), Dorothy Cook and Margaret Duckworth.
Long-time Ocean Grove resident Margaret has had a wonderful 25 years at the club.
"We're looking forward to the next 25," she said.
Dorothy said poetry kept her alive and that being a part of the group helped her understand the beauty of words.
"It stretches you and keeps your brain and imagination active," she said.
"We all speak the same language."
The group consists of 17 members, who have studied everything from ancient Chinse poetry to local present-day poets.
Group member Ena Roach said there was "a palpable warmth" within the group.
"We all come from different backgrounds, so we can pool our knowledge and understanding," she said.
Group members shared silver-themed poetry that afternoon, in recognition of the silver anniversary.
Ocean Grove Poetry Appreciation Group meets each Friday at the Ocean Grove Uniting Church (except school holidays).