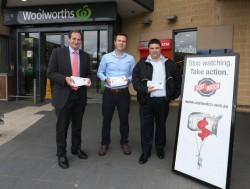 LOCAL state politician Simon Ramsay stopped by Ocean Grove on 15 March to promote the Liberal Party's "Costwatch" campaign.
The Member for Western Victoria spoke to shoppers at Market Place about campaign's focus: the rising cost of living.
"We met single mothers, retirees and businesspeople, who all had different stories to tell about their costs of living," he said.
"We want to work with residents … by formulating policies that will reduce costs and taxes going towards the next election."
Mr Ramsay said the campaign was aimed at reducing "significant costs, including utilities, red tape, regulation and bureaucracy".
Mr Ramsay spent the day introducing shoppers to fellow state politician, Michael Gidley, the Shadow Parliamentary Secretary for Cost of Living.
They also visited Gateway Plaza in Leopold. For more information visit www.costwatch.com.au.