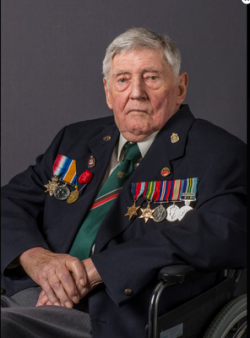 By LUKE VOOGT
OCEAN Grove recently said goodbye to local identity Owen Holbrook, who was a resident of the town for 80 years.
Owen died on 1 March – just a few days short of his 91st birthday.
The Voice spoke to Owen's son Adrian last week, who remembered his father as a community-minded man.
"He got involved in a lot of things for the benefit of the town," he said
Owen was a founding member of Ocean Grove Bowling Club, and a member of local organisations including Probus and "Save Ocean Grove Park".
He also served as a lieutenant and captain of Ocean Grove Fire Brigade from 1946 to 1957.
Owen's family bought a Thacker Street farm in 1935 and was one of the first 15 to settle in Ocean Grove.
"It was all cart tracks back then," Adrian said.
After putting out the Chalet guesthouse fire in 1948 he met his wife, Lorraine Archer, who was the proprietors' daughter.
Owen's road and concreting company built many local roads, which he and his wife named together.
Adrian remembered his father as an innovative and inquisitive man, who could redesign old machinery and return it to life.
"If you thought about it long enough, you'd come up with a practical solution – that was his motto," he said.
Like many diggers, he put up his age when he was 17 to join the local militia during World War II.
He served in Papua New Guinea from 1942 to 1945, sustaining a shrapnel wound from a grenade in service of his country.