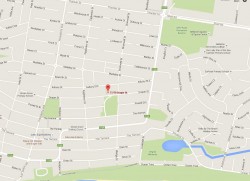 GEELONG Council last night Tuesday 16 February gifted two blocks of land – 77-79 Draper Street – to Karingal to use as accommodation for people with disabilities.
Beangala Ward councillor Jan Farrell, who lives in Ocean Grove, said there was a lack of such accommodation on the Bellarine.
"There is a real shortage in supported community-based accommodation, particularly for young people with disabilities," Cr Farrell said.
"I'm thrilled that we have been able to provide some additional options for those people and their families."
A panel of council officers, and an independent representative, received expressions of interest from not-for-profit supported accommodation providers from 22 August to 30 September.
They assessed the submissions against a range of criteria, including past experience and performance, and the ability to develop, operate and deliver similar facilities to the community.
When the Ocean Grove Netball Club moved from Shell Road Reserve in April last year, it freed-up four blocks of land in Asbury and Draper Streets.
Cr Farrell said the council identified two of the blocks for much-needed community use.
The Contract of Sale requires Karingal to commence construction of the buildings within 12 months of land transfer.
Karingal must also begin operating the facility within two and a half years of land transfer.