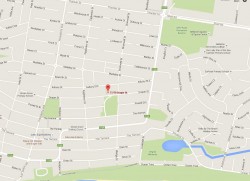 THE City of Greater Geelong Council will tonight, Tuesday 16 February, vote on the proposed sale of 77-79 Draper Street, Ocean Grove, to Karingal for supported accommodation for people with disabilities.
Council's CEO Kelvin Spiller says the council has followed all due process and is acting within its legal and community remit to consider the sale of the land, as recommended in tonight's council meeting agenda.
"I am assured that the council has followed all required processes to investigate and report on this matter – including the implementation of an approved Expression of Interest Process (to establish) Community Based Support Accommodation, overseen by a probity plan and a probity advisor," Mr Spiller explained.
"The council also has a Sale, Exchange, Transfer and Use of Council Land Policy that makes reference to land sales at 'less than market value' for 'community benefit'."
Mr Spiller said the council's original resolution of 10 March last year to sell the Draper Street property fell under the above policy, by stating: 'That Council, having considered all submissions made in response to the notice of intention to sell the land at 77-79 Draper Street ("the land"), Ocean Grove, offer the land for sale by expressions of interest at nil consideration to a provider of supported accommodation for people with disabilities'.
"I remain satisfied that the council has the power to dispose of the Draper Street land to Karingal, if it votes to do so."
The council's General Manager Community Life Linda Quinn also noted that the $10 million Sector Development Fund mentioned today in local media was established to meet the objectives of the Specialist Disability Accommodation Initiative, but that this funding was not available to NDIS trial sites – which includes areas in the Barwon Region.
"Our local media also referred to a pilot project to 'fast track the development of innovative disability housing'," Ms Quinn said.
"Unfortunately, this NDIS Request for Information seeking ideas on innovative disability housing closed on 1 February, and has no funding attached," Ms Quinn concluded.