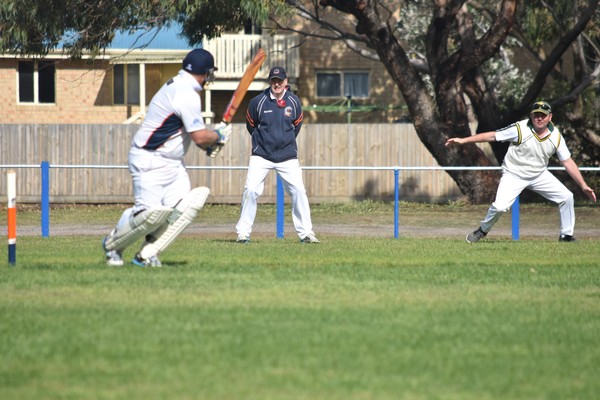 By Mark Heenan
Collendina A1 claimed a vital three points in a rain affected Round 3 drawn match against Queenscliff at Royal Park in Point Lonsdale on Saturday 19 October.
The drawn result means the Cobras move into seventh after they leap-frogged a winless Portarlington, which sits on the bottom following a seven-wicket loss to Ocean Grove.
Collendina faced 29.3 overs to score 4/83 before play was abandoned due to weather.
Cobra A1 interim captain Jye Hearps said despite the three points, it was a frustrating day for players with the 'on off stop start' nature of play.
"It was one of those days that all cricketers don't enjoy – the on off, on off," Hearps said.
"I think a lot of us just want to know one way or another are we either going to play or not?
"As soon as we lost that first 22 minutes which meant it affected the result then (both teams) knew we were going to play for a draw."
Cobra opener Kade Norquay top scored with 37, while batting pair Max Sutton (36 not out) and Ben Ricardo (0) played their first games of the season.
COLLENDINA will now play at home against Barrabool in the Round 4 one-day clash on Saturday.
C1
COBRA batsman Craig Jeffrey steered his side to a nine-wicket victory with an unbeaten 87 in the C1 one-day clash at Collendina Reserve.
Wallington was all out for 124 from 38 overs, Wallaby opener Marc Occhipinti top scored with 50.
Cobra Dave Treharne (4/13) snared four wickets from seven overs.
Collendina sits on top of the C1 ladder with 3-0 record after three rounds.
C2
ARMSTRONG Creek defeated Collendina by 88 runs in their Round 3 one-day game at Armstrong Creek. Julian Wilson (76 not out) and Peter Mohr (63) the rungetters.
Batting first the Titans posted 4/294 from 40 overs, in reply Cobras made 7/206.
D GRADE
THE Cobras Round 2 one-day competition clash against Newcomb was abandoned at Bellarine Secondary College's Ocean Grove campus.
Collendina was 7/95 from 31 overs before play was called off due to a wet pitch and inclement weather.Zac Badrock (25) and Andrew Keen (24) got starts.