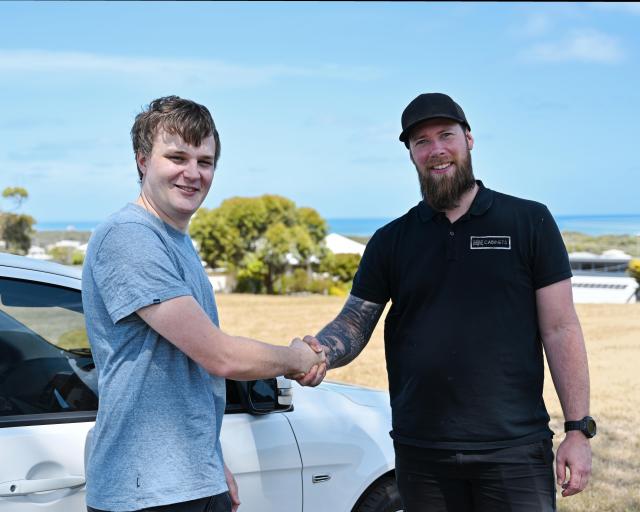 By Jena Carr
An Ocean Grove man has ran alongside an out of control car for 50 metres to save a man suffering from a seizure while driving.
Drysdale's Willem O'Riley, 25, was driving home from Barwon Heads when he blacked out behind the wheel near The Parade and Tuckfield Street corner close to 2pm on Saturday, November 11.
"I remember coming through the roundabout at the other side of the Barwon Heads Bridge and started feeling very dizzy and not quite right," he said.
"I then remember absolutely nothing until I woke up in the back of an ambulance…which is pretty disorienting."
Mr O'Riley, who has now been diagnosed with Epilepsy, said he was thankful for the heroic efforts of Ocean Grove's Brendan Nairn, who was driving behind him at the time.
"He said that he was behind me and all of a sudden I jumped on the brakes, and he told me that through the rear window he saw me start shaking," he said.
"He ran alongside my car, opened up the door and shoved my foot off the accelerator and managed to park me up…and it was amazing."
Mr Nairn said he first noticed something wrong when Mr O'Riley slammed on his brakes and saw him shaking. The 32-year-old ran alongside the car for 50 metres, keeping it going straight while he tried to get it to stop.
"I got out of my car and ran up to his car door, but as I got there, it took off again because his foot was still on the accelerator," he said.
"I just kept chasing after his car until I got his door open, steered it into a gutter, and pushed it into park. I then held him there and called 000."
Mr O'Riley said he did not believe he was a hero despite many people calling him one and instinctively felt he needed to jump in and help.
"I was doing what I hope most people would try and do, or at least try and help, I don't think it's heroic," he said.
"I couldn't leave him. I feel if that was me or my family, I would want someone to help them, and no one knows what anyone's circumstances are, so you just help them."