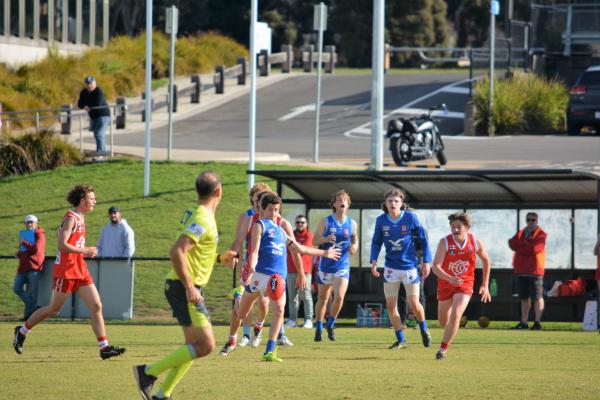 Ocean Grove powered past Barwon Heads as under-19s football resumed across the region on Saturday.
The Grubbers fielded several regular senior players, including Sam Donegan, who turned in a best afield performance with eight goals in the 19.13(127) to 4.6(30) win at Ray Menzies Memorial Oval.
Donegan has been a surprise packet for Ocean Grove's senior side this season and on Saturday he relished the opportunity to run amok.
Ben Gillians snagged five goals while Fletcher Keck was another who has played seniors this year.
In under-17s division 1, Ocean Grove won a tight battle against Geelong West Giants, 8.7(55) to 6.8(44).
Caleb Belcher, Nick Gibbon (two goals) and Billy Dawson were best for the Grubbers.
In division 4, Ocean Grove thrashed Lara to the tune of 85 points.
Bailey Prato was best on ground in the 16.9(105) to 2.8(20) win while Ted Farrell and Ethan Fitzgerald each kicked five goals.
St Mary's defeated Ocean Grove in under-15 division 1.
Kian Gee and Jack Bennett were best in the 5.3(33) to 7.4(46) loss.
Portarlington proved too good for Ocean Grove in division 3.
Ocean Grove had a good third quarter, but the Demons were too strong, winning 15.10(100) to 4.2(26).
Bailan Ashton tried hard for Grove with two goals while Harry Sedgeman was terrific for Port.
In division 6, Bell Park defeated Ocean Grove 11.15(81) to 0.4(4).
Ben Cirillo, Max McGuane and Lachy Bear never stopped trying.
Ocean Grove defeated Geelong Amateur in the under-15s division 1 girls' game.
Grove turned in a strong second half performance to win 9.6(60) to 3.3(21) with Sienna Edwards, Alexie Murray and Stephanie O'Kane starring while Tilly Anderson booted four goals.
In division 2, St Mary's defeated Grove 5.5(35) to 1.1(7) with Piper Needham, Georgia Rolfs and Chloe Bermingham best for the Grubbers.