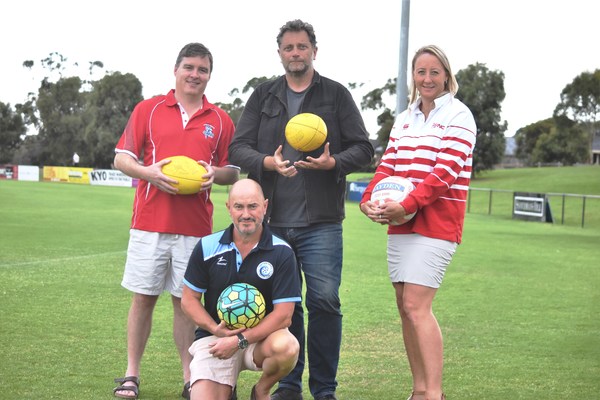 By Mark Heenan
Ocean Grove community sports clubs, including the region's footy codes, have united in the wake of the COVID-19 pandemic.
Ocean Grove Football Netball Club, Ocean Grove Cobras Junior Football Club and Surfside Waves Soccer Club representatives met after news that their seasons were postponed.
AFL Barwon announced on March 17 that all community football and netball had been postponed until May 31 in light of the COVID-19 health crisis.
AFL round 1 games went ahead with the AFL announcing a reduced 17 round season.
The Richmond and Carlton season opener was played at a vacant MCG on March 19.
Ocean Grove Football Netball Club and Ocean Grove Cobras Junior Football Club issued a joint statement stating they were in constant dialogue about the challenges they faced.
"The committees of both clubs have begun planning to deal with the challenges that will come our way and to ensure our players, families and members return to a safe and positive environment when the shutdown ends," the statement said.
"We are well aware of the impact that this pandemic will have on our community and are determined to both play a role in helping the broader community over the difficult coming months.
"With a combined social media presence of almost 4000 followers, one simple thing that we will both do is to use our platforms to support our sponsors, many of who are local businesses who have supported us year in and year out.
"Football/netball clubs play a really important role in communities and both clubs will continue to work closely over the coming months to maintain a visible presence and support those in our town who are doing it tough."
OGFNC president Peter Smith said on the club's Facebook page that using club changerooms for training purposes during the banned period would be off limits.
"This decision also includes training, practice matches and events and gatherings at clubs, so there will be no access to our changerooms at Shell Road Pavilion and [Ocean Grove] Memorial Reserve during this time," Mr Smith said.
Meanwhile, Football Federation Australia (FFA) confirmed sanctioned local soccer competitions would be suspended until April 14.
Surfside Waves Soccer Club (SWSC), which issued a statement to members, players and families, said club training would continue despite the current health crisis.
"Dear SWSC community, obviously we are in uncharted waters at the moment and there is a lot of uncertainty about what people and groups should and should not do," A SWSC statement said.
"The official advice from Football Victoria, our governing body, is that training can proceed as normal.
"This is as long as we do not break the new State of Emergency laws that prohibit crowds of 500 plus gathering for non-essential events.
"As our training nights fall well under 100 people, we would like to continue offering training to all teams."