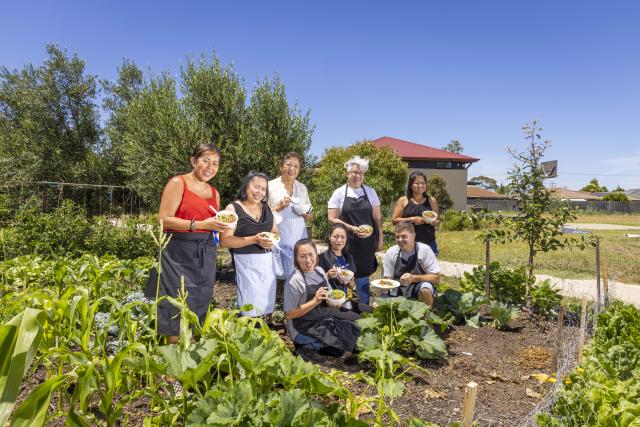 When Issara Saeyim began the Lotus Kitchen project to help other women who were escaping modern-day slavery and family violence she had no idea of the impact it could have. She spoke to Matt Hewson about the project and its upcoming fundraiser.
Ten years ago, Issara Saeyim was living the modern-day version of domestic slavery right here in Geelong.
Now, she is the founder and director of a program that helps women find their feet after escaping similar situations.
"I have lived experience in family violence and modern-day slavery, so everything I do is just a reflection from what I've experienced and what I've learnt," she said.
"I think we need to give people education, building their skills. People get smarter when they have education, when they have the language and they have skills. "
Three years ago, when the COVID-19 pandemic hit, Issara was just starting a student placement at Corio's Cloverdale Community Centre as part of her Diploma of Community Services.
"When I started my CEO said, find a way to connect with people, to engage with people. And I knew, in my community, people get taken advantage of because they don't understand the system and they don't have English.
"Sometimes the people that take advantage of them are their own people; not just an Australian partner, but those who run businesses.
"I come from Thailand, and I like food, so I thought, okay, let's do a program that actually teaches people how to run a kitchen.
"And in Corio there are a lot of people who struggle with food and don't have much income, so I thought we'll sell it, (make it) affordable."
And so the Lotus Kitchen was born. Starting with a small crew of about 10, Issara and her team of volunteers – at that stage, exclusively Thai women – began making boxes of Thai food, only 20 or so every Thursday night, for $3 each.
Word soon spread, and the Lotus Kitchen at Cloverdale Community Centre became an important outlet of accessible, affordable food for many in Corio over the pandemic.
In 2023 the program has outgrown its humble beginnings, now preparing anywhere from 600 to 700 boxes every Thursday.
To help expand the project outside the physical confines of Cloverdale, the project acquired a food truck last year, a 1967 Chevy Step-Van, which required plenty of care – and money – to get on the road.
A2B Support, a Geelong-based not-for-profit that supports social projects, took notice, coming on board to help the Lotus Kitchen raise funds to get the food van operational and the project cooking at local events and functions.
A2B president Cheryne Bird said the addition of the food van would make a huge difference to the Lotus Kitchen's ability to help people find their way after experiencing modern-day slavery.
"At the moment, they can only operate on a Thursday night at Cloverdale, because that's the only time available," Ms Bird said.
"But having the food truck would mean they could work at public and private events, they can go to markets and operate more than just one day a week.
"Then they'll have the capacity to bring on more individuals who are in similar circumstances and help them."
Ms Bird said the outcomes from the Lotus Kitchen were easy to see among the participants.
"A lot of these women have some quite horrific stories, so it's about being able to build friendships, they're able to have a sense of self-worth and feeling like they're contributing to the community and that they're worthwhile individuals," she said.
The last step in getting the food van out in the community is the Lotus Kitchen's Thai dinner and trivia night fundraising event on Friday, November 24 at Cloverdale Community Centre, where A2B hopes to raise $20,000 for the final outfitting of the van.
Ms Bird said while the last fundraiser for the project had been "really emotional", this week's event was going to focus more on enjoying the food and the entertainment.
"The last event we had, we had a lot of speakers talking about the project, and it really drew on the heartstrings," she said.
"But for this one we're aiming for something that's a lot more fun, a light-hearted night to raise the money.
"We've got quite a lot of donors who have donated some really good auction items, and the focus is fun, people having a good time, and enjoying the food."
Issara said once the food van was up and running it would serve as a "beacon" against modern-day slavery.
"It can be a place for people to have training in hospitality and then a pathway for them to get a paid job with a good employer," Issara said.
"It's about education; it always comes into everything I do. And not everybody can go to a mainstream school or do formal education."
For Issara, Lotus Kitchen has been just as significant for her as it has been for the participants.
"I still can't believe it; it's very important to me, it's my life," she said.
"When I see the volunteers that I've worked with from the start, through three years, how their skills and confidence have grown, I just feel very proud.
"When people are engaged and keep doing, practising, it can change people's lives. Like for me, I had bad experiences but I keep going, keep moving forward.
"You don't think about when it's going to get better, you just keep doing it. It will all come.
"We just keep cooking, keep cooking, and keep learning and supporting people."
The Lotus Kitchen Food Truck Trivia Night is at Cloverdale Community Centre at 7pm, November 24. Visit events.humanitix.com/lotus-kitchen-trivia-night for tickets and more information.